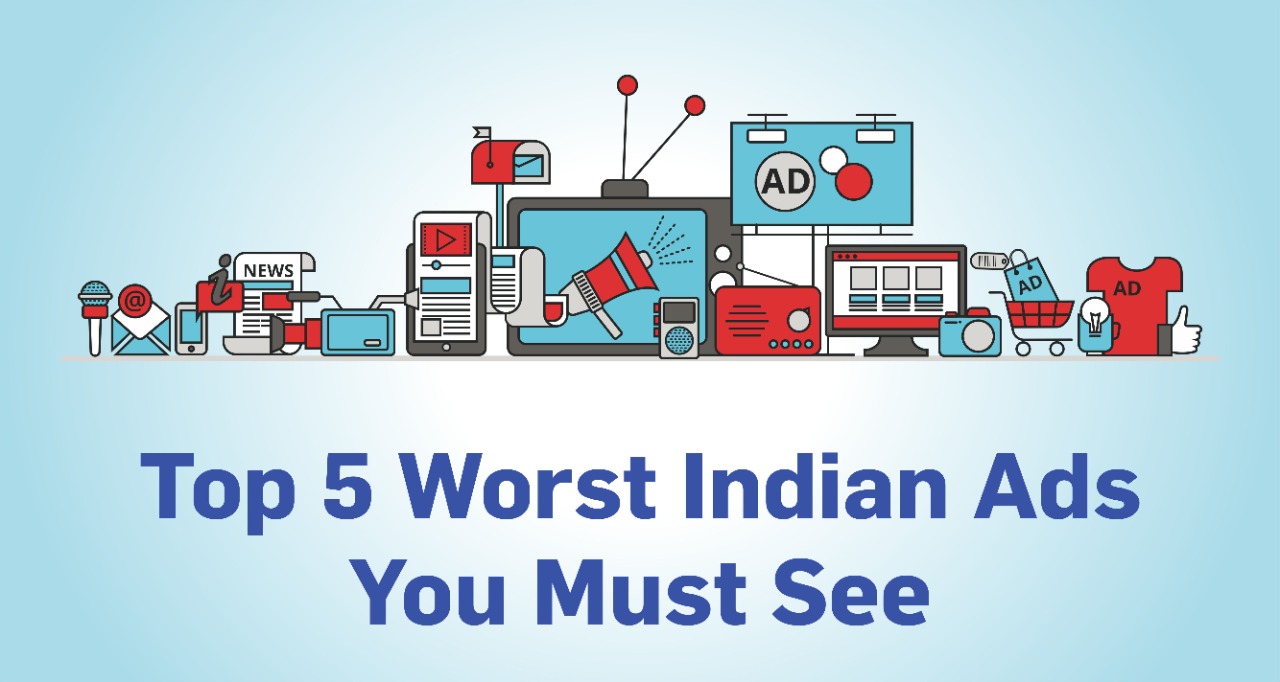 Top 5 Worst Indian Ads You Must See
Brands are constantly coming up with innovative ideas and fantastic execution to entice their audience. In the Indian community, Television Commercials or TVCs are still one of the most influential advertising platforms. And now, with the digital arena open to brands, these ads are not just confined to your television sets anymore. Now, video advertising content can be consumed by the audience anywhere at any time.
A good ad can make a brand invincible and skyrocket its presence in the market. But a lousy ad can do irreparable damage. Sometimes brands come up with unfathomable and downright absurd ideas for ads that make you look at their image questionably.
Let us look at the top 5 worst Indian ads that make you go, "Wait… What does that mean?" or "Did that just really happen?!" Don't worry, you don't have to trust our judgment on it. See the ads for yourself and make a decision.
Amul Macho – Yeh Toh Bada Toing Hai
Amul Macho is a popular underwear brand for men in India. And from the 1990s, Indian brands believed any product with men as their target audience should always include some sex appeal. This phenomenon has had some noticeable reforms since the last decade, but not quite enough.
This particular ad campaign that Amul Macho ran in the 2010s is a classic example of trying to force sex appeal in a scenario that doesn't fit at all. It is the same ad that acted as a catapult to launch Sana Khan's career. She played the newly-wed who washes her husband's underwear (presumably) in a rather sensuous way! Other women on the pier give her such weird reactions that you won't be able to watch with a straight face. The ad makers intended to provide it with a hilarious take, but the audience received it totally differently.
Amul macho did change its marketing strategy and revamped its campaign, roping in Saif Ali Khan for "Bade Aaram Se." It performed really well and pulled the brand back to relevance.
Dixcy Scott – Fully Elastic Fully Fantastic
Although Dixcy Scott had a nice tagline and got heavy-hitting Salman Khan to do its' bidding, the ad itself was ridiculously mindless. It showed Salman Khan and his friend in Scotland, where the Dabangg star is bizarrely roaming around in a lungi, looking at some bagpipers. His friend chimes in with a rumor saying they don't wear underwear. To which Salman khan indulges in a bagpiping duel playing naagin tunes with them. In the end, the bagpipers' underwear drop mysteriously, debunking the rumor.
The whole ad is a miserable attempt failing in humor, storyline, brand integration, and pure common sense. The ad makers felt that having immense star power in the form of Salman Khan would do the trick, perhaps.
Ching's Secret – Ranveer Ching Returns
This ad is the epitome of Bollywood integration into the marketing world that fizzles out and amounts to nothing. Don't get me wrong. There are many filmmakers such as Nitesh Tiwari and Neeraj Pandey who make great ads. But Rohit Shetty, who made this preposterous ad for Ching's Secret, isn't one of them.
Now, this video content is less of an ad and more of an action movie trailer. How could one go wrong with creating an ad like a movie trailer? It's simple – when you try to copy the set design from Mad Max: Fury Road and fail by adding a ridiculous story and dialogues to it that don't match at all.
This ad is a total cringefest with shoddy dialogues, casual misogyny masked in comedy and a double role that doesn't make any sense. Also, someone should tell Rohit Shetty that a bigger explosion doesn't mean better content.
Mahak Silver Pan Masala – Mahak Silver Mera Dilber
In my opinion, every 3rd pan masala ad should be on this list. Still, Mahak Silver Pan Masala bags the special mention because of the different levels of hallucination depicted in the brand's ads. In the ad, whenever the guy eats the pan masala, a beautiful girl magically appears and has a gala time with him. Then, she disappears when the pan masala is finished. Until the guy opens up another packet and… You see where this is going.
The Mahak group got Sunny Leone for another ad in recent years, and it just got worse than the previous ones. Pro tip – getting famous celebrities in your ads and repeating your product's name won't work in the competitive market anymore. The audience has evolved, and so should the brands.
JK Super Cement – Vishwaas Hai, Isme Kuch Khaas Hai 
To close our list of worst ads, we have a gem of a campaign from JK Super Cement that the brand was so embarrassed with, the master copy doesn't exist on the internet anymore. The brand came up with a series of ads that had nothing to do with their brand or product.
They tried to integrate their brand with Lifestyle Marketing like Marlboro, but without the proper foundation, which deemed the ads meaningless. For example, one of the ads in the series just showed a model in a bikini walking and the brand's tagline in voice-over. Nothing else.
But rather than just being an entry in our worst ads list, JK Super Cement is also a success story here. The brand, in recent times, has come up with some brilliant, heart-touching ads that show how its advertising strategy has taken a much-needed excellent turn. The brand has touched the right chords with the audience depicting relevant scenarios from the society. Watch their new ads here –
Advertising can be tricky sometimes. If you are a brand owner trying to make a TVC, you need to make sure your ad is relevant and insightful while portraying the best benefits of your product or services. Managing your business and your advertising can be challenging. If you ever find yourself in a situation like that, finding a top ad agency will be your best bet. A great ad agency will create the perfect TVC for your brand.
Sanket Communications is the right choice for you when looking for the top full-service advertising agency that can create the perfect TVCs and other video content for your brand. Sanket is a 360° integrated communications agency that will build the ladder of success for your business with sensible, consumer-targeted TVCs, advertising & marketing strategies. With over 30 years of rich experience in the industry, Sanket has worked tirelessly and successfully in the advertising field with clients across all sectors such as Government, PSUs, Private sector, Trade Organisations, NGOs, etc.
Sandeep Hati is a copywriter at Sanket Communications. He is passionate about advertising trends and stories. He aims to explain the many intricacies that run the advertising and marketing world. When he's not working, you'll find him buried in a book or watching period cinema or failing gloriously on the same level of video game infinitely.